Colored contact lenses
For those, who want to change eye color, we have now different types of colored contact lenses in the stock. So now you can buy right away one of the seven most favourite colors in Europe
nondioptrical design: brilliant blue, saphire blue, blue, green gemstone, turquoise, sterling gray and brown. The dioptrical colored lenses will be prepared for you in two days.
For illustration we photographed colored lenses demonstrated always just on right eye, so you can assess what changes are on different eyes.
Brilliant blue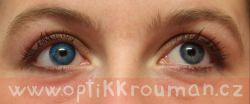 Gemstone green



Sterling gray




Caribbean aqua


Sapphire blue


Blue


Green


Brown


We reccomend to try the particular color of contact lenses. The final result is affected by your native eye colour. You can avoid this effect only by using full-cover color contact lenses, but they haven´t got so natural visage.
There are some disadvantages related with color contact lenses – especially they limit your peripheral vision. The movement of colored lenses may be visible at close range when winking.
However, you can achieve an appropriate selection of an interesting effect. To test we have more than forty samples. Feel free to try different color eyes. Recommended for the examination of colored contact lenses ordered info@optikkrouman.cz or by phone: 542 212 955
Optik Krouman, Josefská 1, Brno
Phone: 542 212 955
Mon-Fri: 8:30 – 18:00
Sat: 9:00 – 12:00
Registrujte svůj email a získejte slevu 333 Kč!
Registrací získáte:
slevu 333 Kč na brýlovou obrubu dle Vaší volby
2× do roka informace o největších novinkách a akcích pořádaných Optik Krouman® přímo do Vaší emailové schránky