When to start with dioptric correction?
Sight measurement
If you still hesitate, whether you already need glasses or what kind of glasses would be suitable for you in terms of your vision problems, you can come to the free consultation, when eye specialist will explain everything you need and recommend appropriate solutions and next steps.
If you feel that your
eyesight is no longer sharp enough
, you have
tired eyes
, or you often have a
headache
, it is advisable to visit optometrist and let yourself to measure your vision. You do not have to visit an ophthalmologist, directly in the examination room Optik Krouman on Josefská 1 street or Holandská 8 (both in Brno) we measure the dioptries needed without waiting. You can also
make a appointment
on a phone number 542 212 955 (Josefská 1 street) or +420 775 580 449 (Holandská 8 street)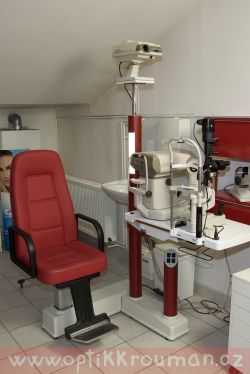 First we measure your sight using autorefractometer your objective refraction.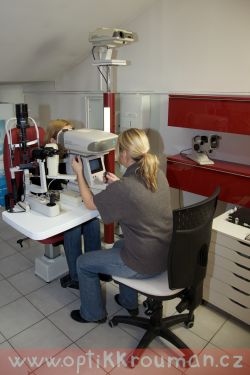 ,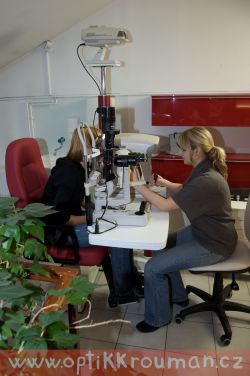 This refraction must be corrected according to the subjective measuring. It means we put you into the test frame such lenses, in which you are feeling the most comfortable.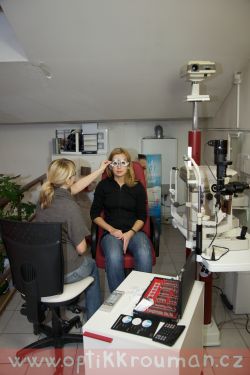 You can walk in the examination room with this test frame to ensure yourself, that this subjective refraction is the most pleasant for you.
If you want to try contact lenses, we teach you manipulate them and we tell you all the essentials for their maintenance and wear.
If you have a different correction for distance and near, we determine the diopter for reading, possibly for your working distance, which doesn´t have to be match. In that case you can also consider possibility of wearing multifocal glasses.
If you make a purchase of new frame and lenses in Optik Krouman® or you´ll have to replace glasses into your old frame, sight measurement is completely free.
Price list of services provided in Optik Krouman®.
Registrujte svůj email a získejte slevu 333 Kč!
Registrací získáte:
slevu 333 Kč na brýlovou obrubu dle Vaší volby
2× do roka informace o největších novinkách a akcích pořádaných Optik Krouman® přímo do Vaší emailové schránky