Care of contact lenses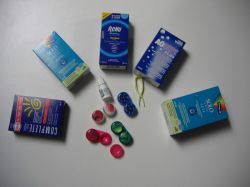 Basic care of contact lenses that are worn repeatedly (all except one-day lenses) lies primarily in their proper cleaning, disinfection and storing in the case.
Contact lenses removed at the end of the day from the eye need to be treated properly, and than they can be reused the next day.
Solution for contact lenses
Currently, there are solutions that fulfill all the necessary features – get rid of contact lens deposits, disinfect it, moisturize and also allow their safe storing.
Solution in case must be changed every day. In the first application, you get the a solution. If you prefer, we recommend it for further use. The change of solution (eg. different producer) could cause irritation of sensitive eyes.
Mechanical cleaning of the lens
After removing the lenses from the eye should be lens gently rub between your thumb and forefinger, or. finger in the palm. After that this lens is free from the larger deposits, and after rinsing with a solution of the lenses can be saved in the case.
Case for contact lenses
Cases for contact lenses are used to store contact lenses when you are not wearing them (especially overnight). Cases for lenses is recommended to change after three months, maximum after six months
Eye drops
In some situations with wearing contact lenses you can feel dry eye. In this case, we recommend using a moisturizing eye drops designed for contact lens wearer. If the problem is repeated, we recommend you visiting our optometrist.
Registrujte svůj email a získejte slevu 333 Kč!
Registrací získáte:
slevu 333 Kč na brýlovou obrubu dle Vaší volby
2× do roka informace o největších novinkách a akcích pořádaných Optik Krouman® přímo do Vaší emailové schránky